Try it now (always free)
Or
There are other websites with many SD images. But this is a true style explorer!
Unique features:
The most complete database of tags
200+ hand-curated, categorized style tags

Filter by medium, style, theme, period, subject matter, and more

All 700+ artists have at least 6 style tags each

Artists that SDXL doesn't know are flagged

Easiest to use filters
Combine style tags with AND or OR logic

Sort tags by name or count of matches

Save your most-used tags

Show/hide obscure tags

Easily to discover new artists & styles
View thumbnails and full-sized images side-by-side

Compare three images per artist

🎨 artwork, 🧑 portrait, and 🏞️ landscape prompts

Save your favorites, filter by favorites, export favorites

Feeling lucky? Sort artists by random

Community first
Free, open source, CC licence, remix, download, do anything you want

No cookies, nothing sent to server, usable offline if you prefer

You can download all images from Hugging Face - they use the artist's names

I welcome comments, requests, and suggestions for artists and tags!

Screenshots
Filter the hundreds of artists by any of 200 style tags: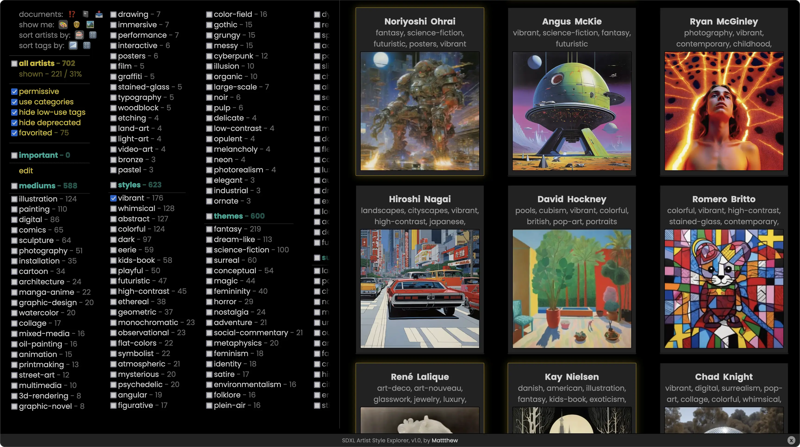 Hover over a thumbnail to enlarge: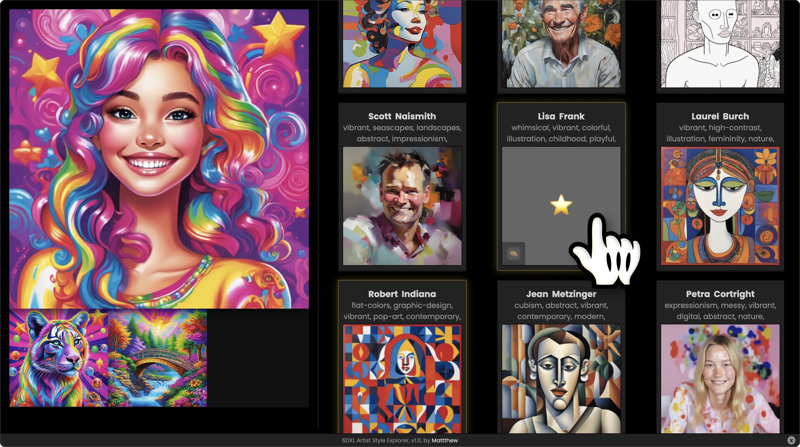 Mark frequently used tags as important: