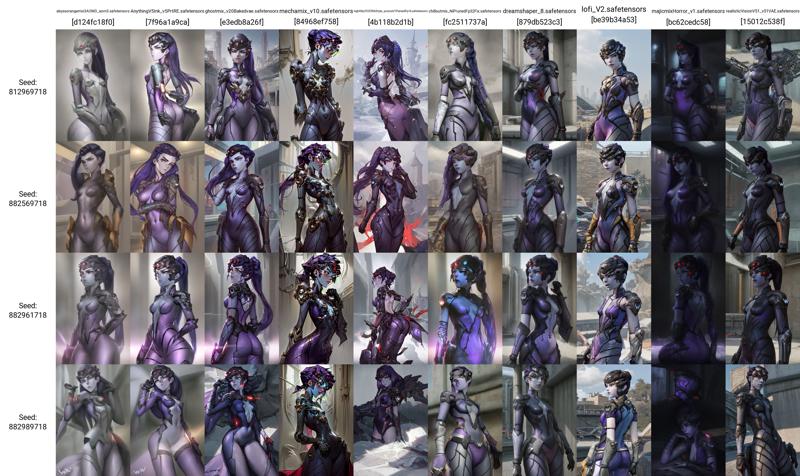 Results:
Total score: 4/7 available.
Character setting: 2/2
are able to restore accurately. Mechamix plays more in the mecha-related parts, and Nightsky plays more in the soft decoration part. Detail consistency is good across models.
Style: 1/2
The style has hardly changed. There is a strong style of game modeling in the 3D model, and it looks younger in the 2D model.
Fault: 1/2
The character has a single posture and cannot show the feet, which may be a defect in the training set. And the backgrounds are all game scenes.
Subjective: 0/1
Today, when the availability of ControlNet is increasing, this lora does not offer much more value than gaming CG.
Note:
This test is designed to indicate the availability of the character LoRa. Four images were generated using four seeds and ten models.It is evaluated from three dimensions: character setting, style and failure, and one subjective dimension.Objective dimension score: 0 Not Recommended, 1 Available, 2 Recommended,Subjective dimensions: 0 Not recommended, 1 Recommended.Maximum total score of 7 points.
结果:
总分:4/7 可用。
人物设定:2/2
都能够准确还原。mechamix在机甲相关部分有所发挥,nightsky在软性装饰部分发挥较多。在不同模型中细节一致性很好。
风格: 1/2
风格几乎没有变化。在3D模型中有强烈的游戏建模画风,在2D模型中看起来年龄偏小。
故障:1/2
人物姿势单一,不能展示脚部,可能是训练集缺陷。且背景都是游戏场景。
主观:0/1
在controlnet可用性逐渐升高的今天,这个lora没有比游戏CG提供更多价值。
注意:
该测试旨在指示字符 LoRa 的可用性.使用四个种子和十个模型生成了40个图像。从人物设定、风格与失败三个维度和一个主观维度进行评估。客观维度得分:0 不推荐,1 可用,2 推荐,主观维度:0 不推荐,1 推荐。最高总分 7 分。