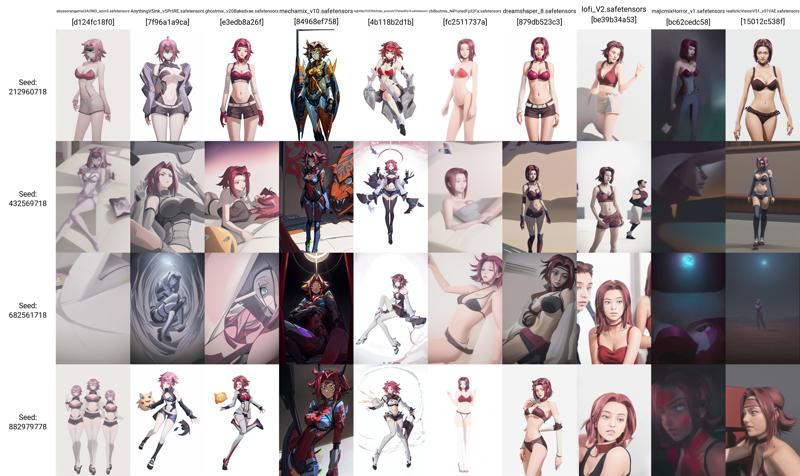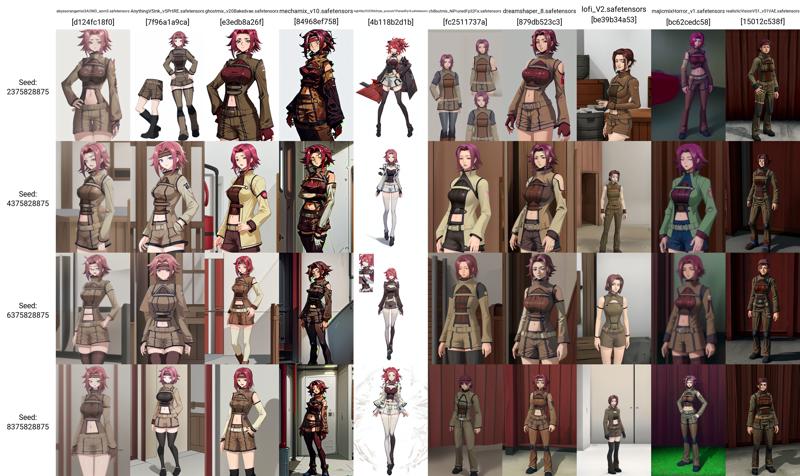 Results:
No Costume Total Score: 1/7 Very bad.
Designated workouts: 5/7 playable
Character setting: 2/2
The LoRa author recommends that a single prompt word can be used to specify the generated clothing, and when no clothing is specified, it is mostly underwear, and the effect is very unstable. Only the Mechamix model spawned stable characters.
After specifying my favorite workwear styling test, I found that the details were well restored, but there were still missing things.
Style: 1/2
3D style performance is not as good as 2D.
Fault: 1/2
There are many errors when there is no clothing prompt.
When generating workwear from a 3D model, it seems to be recognized as some military uniform, and the corresponding background appears.
Subjective: 1/1
It's quite an interesting Lora concept, and the switching of multiple costumes leads to increased playability, which is worth learning from other character Lora.
Note:
This test is designed to indicate the availability of the role LoRa. 40 images were generated using 4 seeds and 10 models. It is evaluated from 3 dimensions and 1 subjective dimension of character setting, style and failure. Objective dimension score: 0 Not Recommended, 1 Available, 2 Recommended. Subjective dimensions: 0 Not recommended, 1 Recommended. The total score is 7.
结果:
不指定服装总分:1/7 非常糟糕。
指定工作装: 5/7 可玩
人物设定:2/2
该lora作者推荐可用单一提示词指定生成服装,不指定服装时多为内衣,且效果非常不稳定。只有mechamix模型生成了稳定人物。
指定我最喜欢的工作服造型测试后发现,细节还原较好,但仍有缺失。
风格: 1/2
3D风格表现不如2D.
故障:1/2
无服装提示时错误非常多。
用3D模型生成工作装时似乎识别为某些军装,出现了相应的背景。
主观:1/1
挺有趣的lora理念,多套服饰的切换导致可玩性增加,值得其他人物类lora学习。
注意:
该测试旨在指示角色 LoRa 的可用性.使用4个种子和10个模型生成了40个图像。从人物设定、风格与失败3个维度和1个主观维度进行评估。客观维度得分:0 不推荐,1 可用,2 推荐。主观维度:0 不推荐,1 推荐。总分是 7 。