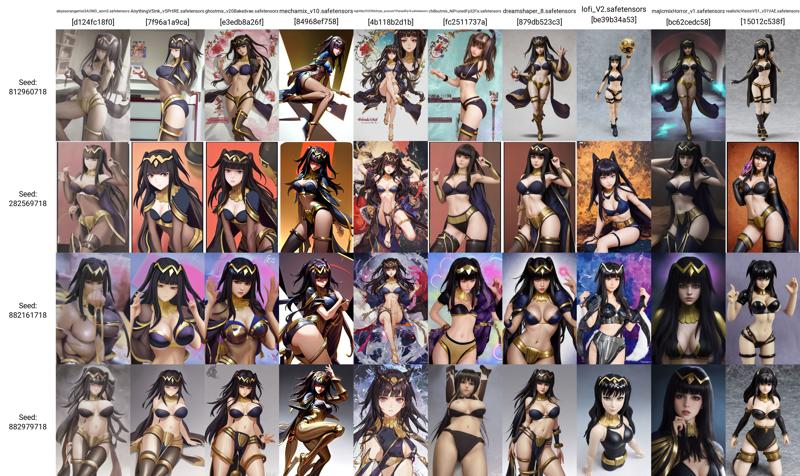 Results:
Total score: 4/7 available.
Character setting: 2/2
It can basically be restored accurately. Black silk is better restored in 2D models than in 3D models. Mechamix and Nightsky added details. Horror identifies some Egyptian flair.
Style: 1/2
There are obvious stylistic changes. But there was no satisfactory live-action photo style, and the 3D model recognized some toy styles.
Fault: 1/2
There were a few physical errors and errors in the details of the costume.
Subjective: 0/1
2D available, 3D not available. I don't think trigger straight out will restore my favorite character.
Note:
This test is designed to indicate the availability of the role LoRa. 40 images were generated using 4 seeds and 10 models. It is evaluated from 3 dimensions and 1 subjective dimension of character setting, style and failure. Objective dimension score: 0 Not Recommended, 1 Available, 2 Recommended. Subjective dimensions: 0 Not recommended, 1 Recommended. The total score is 7.
结果:
总分:4/7 可用。
人物设定:2/2
基本都能准确还原。黑丝在2D模型中还原强于3D模型。mechamix和nightsky依旧补充了细节。horror识别出一些埃及风情。
风格: 1/2
有明显的风格变化。但没有满意的真人照片风格,且3D模型识别出一些玩具风格。
故障:1/2
出现了少量肢体错误和服饰细节的错误。
主观:0/1
2D可用,3D不可用。我不认为trigger直出能还原我喜爱的人物特点。
注意:
该测试旨在指示角色 LoRa 的可用性.使用4个种子和10个模型生成了40个图像。从人物设定、风格与失败3个维度和1个主观维度进行评估。客观维度得分:0 不推荐,1 可用,2 推荐。主观维度:0 不推荐,1 推荐。总分是 7 。