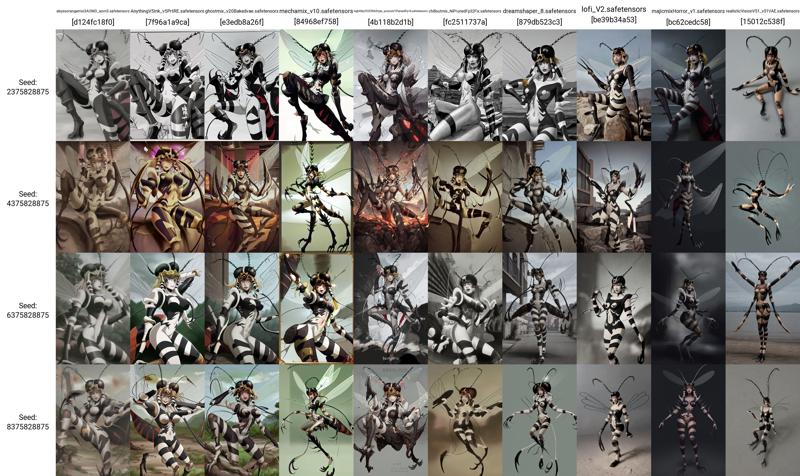 Results:
Overall score: 5/7 Wish it could be more perfect.
Character setting: 2/2
Basically, it can accurately restore the limbs of humans and mosquitoes, and the 2D is significantly better than that of the 3D .3D model, with "harmony and physical chemistry" changes and more distortion.
Style: 2/2
There are obvious stylistic changes.
Fault: 1/2
Physical errors and black and white style pollution, but not fatal.
Subjective: 0/1
Technically better than LoRa I've seen before, but the balance is still not satisfactory.
Note:
This test is designed to indicate the availability of the role LoRa. 40 images were generated using 4 seeds and 10 models. It is evaluated from 3 dimensions and 1 subjective dimension of character setting, style and failure. Objective dimension score: 0 Not Recommended, 1 Available, 2 Recommended. Subjective dimensions: 0 Not recommended, 1 Recommended. The total score is 7.

结果:
总分:5/7 希望能更完美。
人物设定:2/2
基本都能准确还原人和蚊子的肢体,2D明显好于3D.3D模型中进行了"和理化"改动,失真较多。
风格: 2/2
有明显的风格变化。
故障:1/2
肢体错误和黑白画风污染,但不致命。
主观:0/1
技术上比之前看过的lora好一些,但平衡感还是不够满意。
注意:
该测试旨在指示角色 LoRa 的可用性.使用4个种子和10个模型生成了40个图像。从人物设定、风格与失败3个维度和1个主观维度进行评估。客观维度得分:0 不推荐,1 可用,2 推荐。主观维度:0 不推荐,1 推荐。总分是 7 。