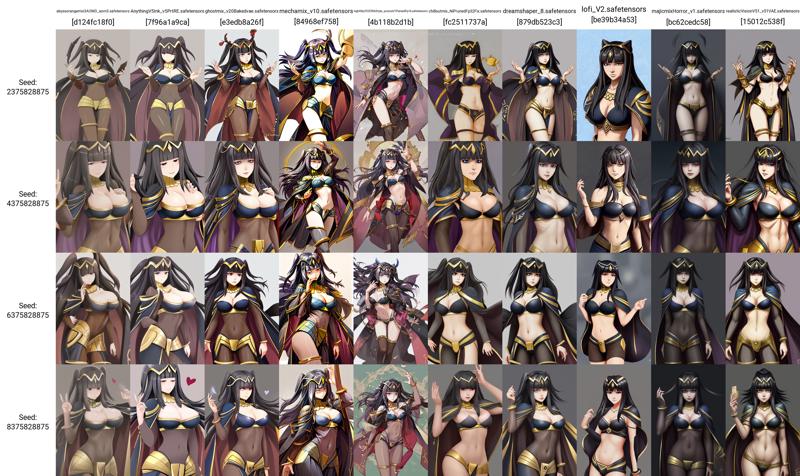 Total score: 3/7 OK.
Setting: 2/2
Basically can be restored correctly
Style: 0/2
The overall style is simple, even in the nightsky without adding much decoration, Abyss Orange has the simplest lines. But it is difficult to output 3D and life-life style photos. is a pure 2D stylized lora.
Fault: 1/2
There are a small number of limb errors, and it is difficult to generate feet with the resolution of the test
Subjective: 0/1
Another lora with multiple outfits, straight out mostly regular clothing. The test of the specified costume was not carried out because of interest. Guess is suitable for adding quality words to get a beautiful 2D picture, but the versatility is weak.
Note:
This test is designed to indicate the availability of the role LoRa. 40 images were generated using 4 seeds and 10 models. It is evaluated from 3 dimensions and 1 subjective dimension of character setting, style and failure. Objective dimension score: 0 Not Recommended, 1 Available, 2 Recommended. Subjective dimensions: 0 Not recommended, 1 Recommended. The total score is 7.
总分:3/7 还行。
设定:2/2
基本能够还原正确
风格: 0/2
整体风格都很简单,即使是在nightsky中也没有添加太多装饰,深渊橘有最简单的线条。但是难以输出3D和真人风格的照片。是一个纯2D风格化的lora。
故障:1/2
有少量肢体错误,测试用分辨率较难生成脚部
主观:0/1
又一个含有多套服饰的lora,直出多为常规服饰。没有进行指定服饰的测试,因为兴趣。猜测适合添加质量词得到精美的2D画面,但泛用性很弱。
注意:
该测试旨在指示角色 LoRa 的可用性.使用4个种子和10个模型生成了40个图像。从人物设定、风格与失败3个维度和1个主观维度进行评估。客观维度得分:0 不推荐,1 可用,2 推荐。主观维度:0 不推荐,1 推荐。总分是 7 。