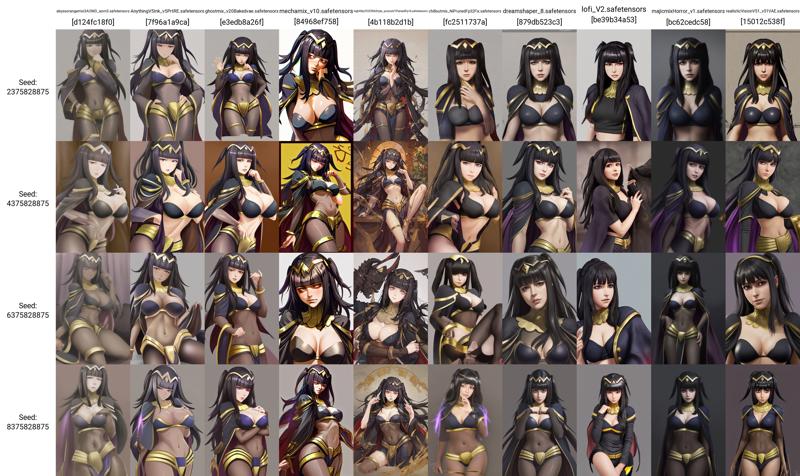 Overall score: 5/7 Very good.
Setting: 2/2
Basically can be restored correctly
Style: 2/2
The overall style is simple, and not much decoration is added even in Nightsky. Output obvious 3D and life-life photos.
Fault: 1/2
There are a small number of limb errors, and it is difficult to generate feet with the resolution of the test
Subjective: 0/1
The 3D realism is still weak, but it has a certain degree of playability, and you can safely choose it when there is no more suitable lora.
Note:
This test is designed to indicate the availability of the role LoRa. 40 images were generated using 4 seeds and 10 models. It is evaluated from 3 dimensions and 1 subjective dimension of character setting, style and failure. Objective dimension score: 0 Not Recommended, 1 Available, 2 Recommended. Subjective dimensions: 0 Not recommended, 1 Recommended. The total score is 7.
总分:5/7 不错。
设定:2/2
基本能够还原正确
风格: 2/2
整体风格都很简单,即使是在nightsky中也没有添加太多装饰。能输出明显的3D和真人风格的照片。
故障:1/2
有少量肢体错误,测试用分辨率较难生成脚部
主观:0/1
3D真实感还是偏弱,但是有一定可玩性,没有更合适lora时可以放心选用。
注意:
该测试旨在指示角色 LoRa 的可用性.使用4个种子和10个模型生成了40个图像。从人物设定、风格与失败3个维度和1个主观维度进行评估。客观维度得分:0 不推荐,1 可用,2 推荐。主观维度:0 不推荐,1 推荐。总分是 7 。