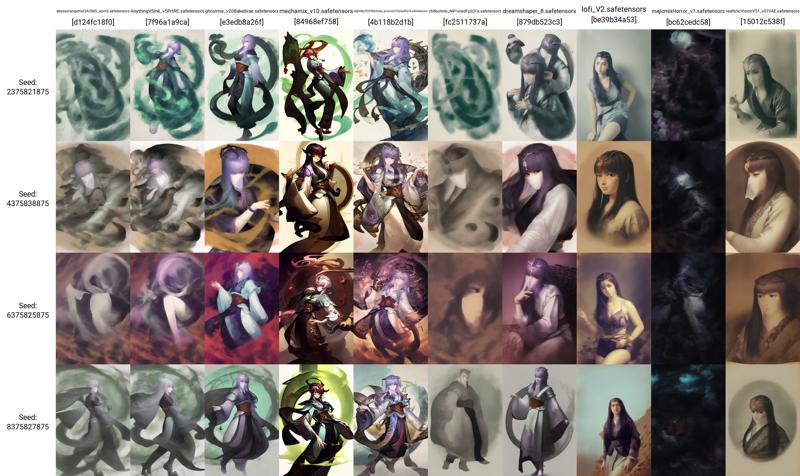 Total score: 0/7 Cannot be used directly.
Character setting: 0/2
It can restore some character characteristics, but the effect is particularly unstable. Nightsky can add stability and detail, and 3D models are completely unusable. Ghostmix barely stabilized the plot. Dreamshaper barely stabilized the plot.
Style: 0/2
Comes with some background effects. 3D models can produce some very blurry images. The style is too strong and very dependent on the model.
Failure: 0/2
Straight out images are very blurry
Subjective: 0/1
The direct effect is too poor, obviously relying on stylized large model refining.
Note:
This test is designed to indicate the availability of the character LoRa. Four images were generated using four seeds and ten models.It is evaluated from three dimensions: character setting, style and failure, and one subjective dimension.Objective dimension score: 0 Not Recommended, 1 Available, 2 Recommended,Subjective dimensions: 0 Not recommended, 1 Recommended.Maximum total score of 7 points.
总分:0/7 无法直接使用。
人物设定:0/2
能还原部分人物特征,但效果特别不稳定。nightsky能补充稳定性和细节,3D模型完全不能使用。ghostmix勉强稳定出图。dreamshaper勉强稳定出图。
风格: 0/2
带有一些背景特效。3D模型能生成一些很模糊的图片。风格过强,很依赖模型。
故障:0/2
直出图像非常模糊
主观:0/1
直出效果太差了,明显是依赖于风格化的大模型炼制。
注意:
该测试旨在指示字符 LoRa 的可用性.使用四个种子和十个模型生成了40个图像。从人物设定、风格与失败三个维度和一个主观维度进行评估。客观维度得分:0 不推荐,1 可用,2 推荐,主观维度:0 不推荐,1 推荐。最高总分 7 分。