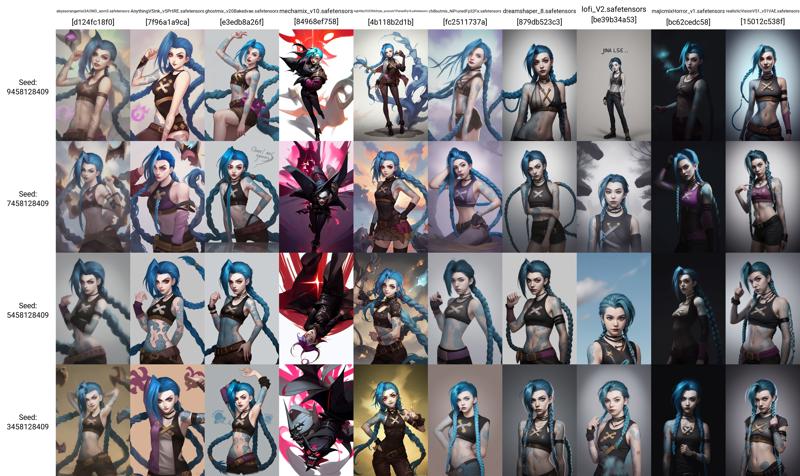 Overall score: 4.3 (5 stars) Perfect
Details: 5 Perfect
Mechamix has never disappointed me as a mech model, and this time it behaved a little strangely. LoRa's stability in different models is satisfactory.
Style: 5 Perfect
You can see the obvious 2D and 3D style, which is extremely usable.
Failure rate: 3 available
The problem of Mechamix remains to be studied. The poses of the images are similar, and Jinx's feet are less likely to appear.
The test used only one trigger word, generating 40 images with 4 seeds and 10 models. Examine the initial performance of the character LoRa itself. There are three objective dimensions: detail, style, and failure. 1 Not available 2 Partially available 3 Available 4 Excellent 5 Perfect . The overall score matches Civitai's five-star rating.
总分:4.3(5星 )完美
细节:5 完美
mechamix作为机甲模型从未让我失望,这次表现异常有些奇怪。lora在不同模型中的稳定性令人满足。
风格:5 完美
可以看到明显的2D和3D风格,可用极强。
失败率:3 可用
mechamix的问题有待研究。图象的姿势都较为相似,并且Jinx的脚部较难出现。
该测试仅使用单个trigger word,用4个种子和10个模型生成了40个图像。考察人物LoRa 自身的初始性能.有三个客观维度:细节、风格和失败。1 不可用 2 部分可用 3 可用 4 出色 5 完美 。总分和Civitai的五星匹配。