Warning: Discord Impersonation Scams
Preface:
This is a DOCUMENTED impersonation scam that is not about "FREE NITRO" or other plain scams that are on most websites. There will be patterns of behaviour to follow and track, and as this is sort of effecting AI creator's livelihoods and it's not from the "ANTI AI CROWD" necessarily (we hope not) it's largely from people who seem to think they know a lot about everyone. Be aware there ARE VERY TRIGGERING themes to this pattern scam, and you've been warned.
Account Impersonation:
There are MORE THAN TWO of these running around, and there are accounts of them DM'ing random users and throwing PORNOGRAPHY and NSFW content into DM's. There is LITERAL PROOF of the "REMAY" or "EVIL YAMER" account verbally harassing us (we'll add the screenshot with TW/CW: verbal abuse and quasi death threats below) - as well as the fact that they're review bombing not just us, but have attacked Yamer, and other creators who aren't "TOP TEN" per se but are well known for quality content.
Awareness:
BE AWARE that you NEED to act with caution, discord probably won't do much but if you run into one of these DM's - report it to discord, and if they came from the CivitAI discord DO let the moderation team know. Other than that sadly, it's sort of a WAITING game.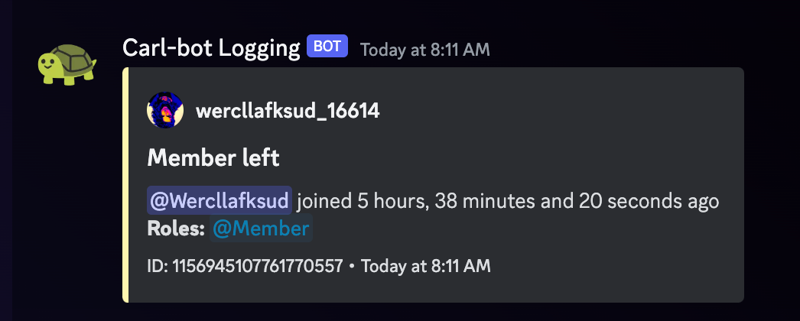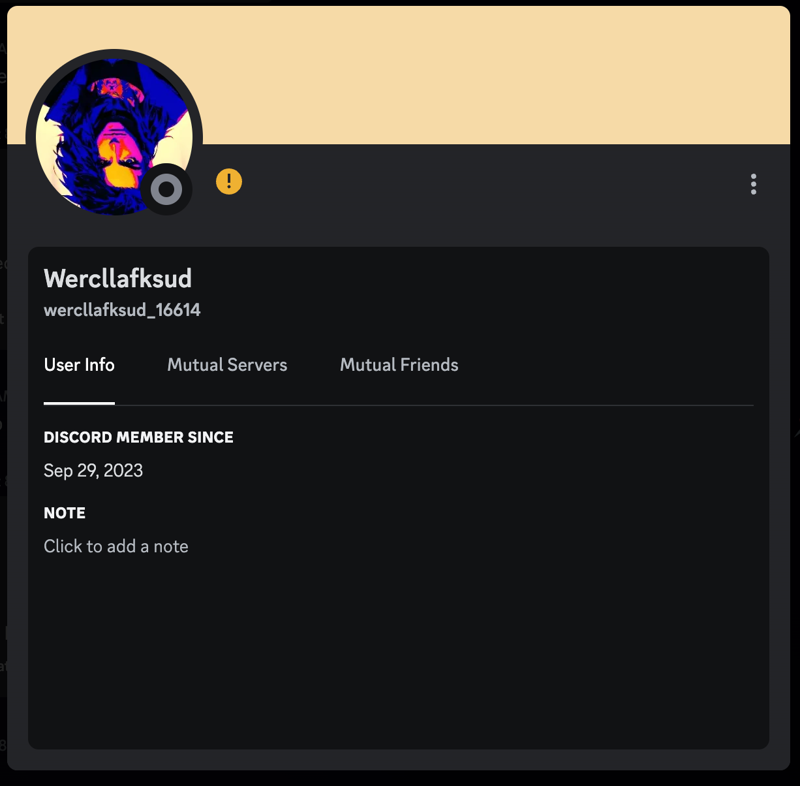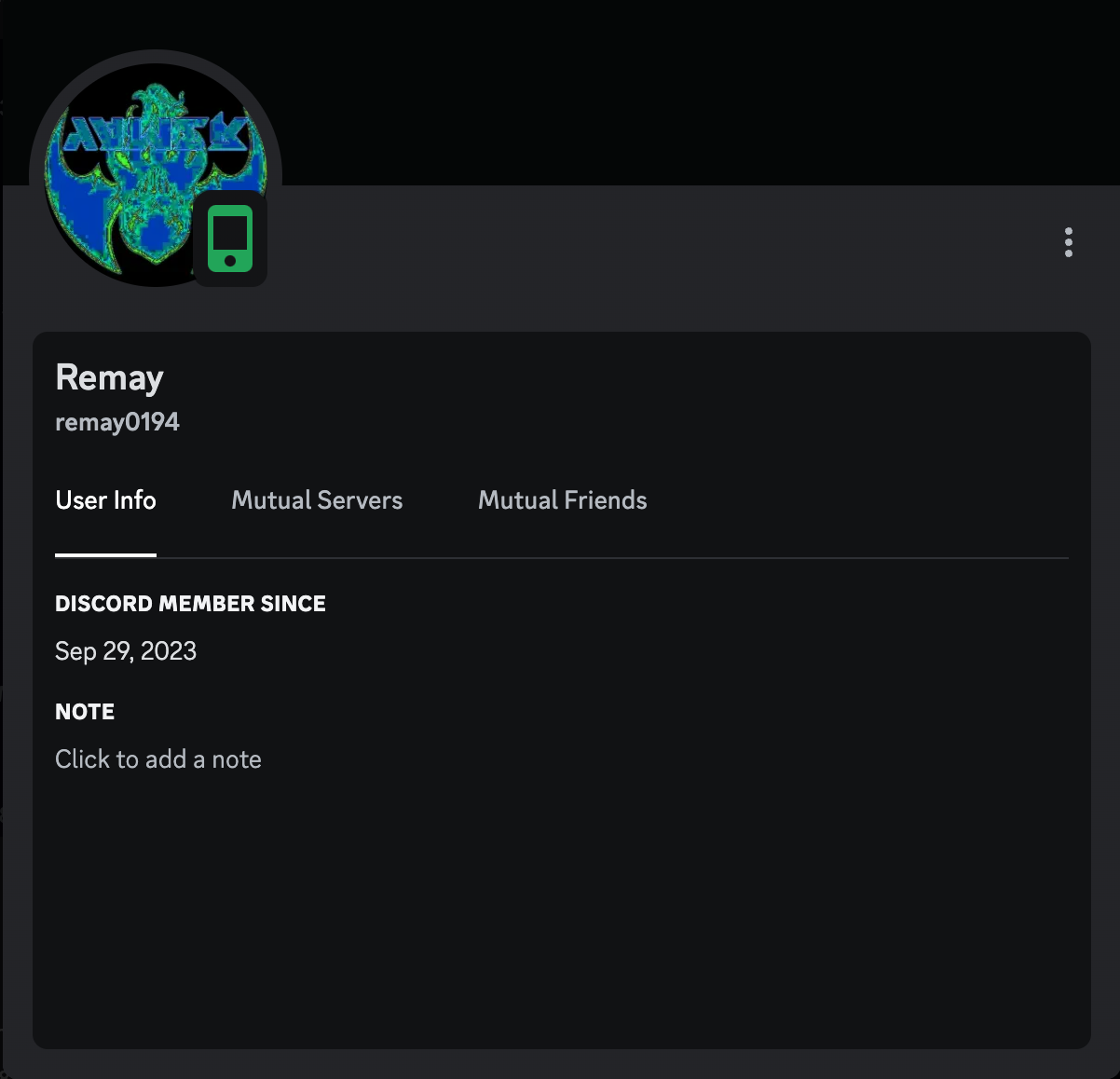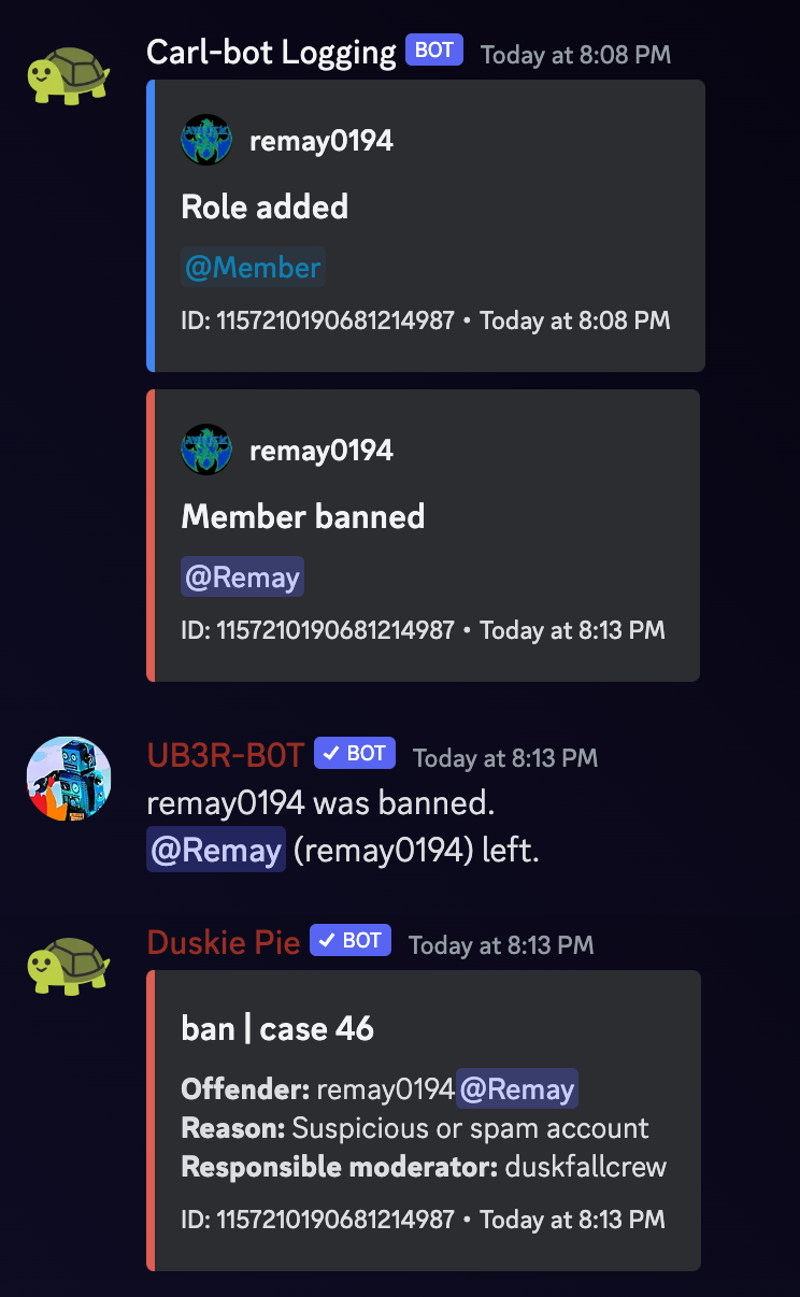 METHODOLOGY:
His method is: join a discord, DM/friend request anyone he needs to blast - and then go publicly blasting people in another discord about said attempts to "HACK" and "SPAM" and "HARM". He's been documented by other users to have thrown NSFW content without warning in DM's and start verbally harassing people. The other thing that happens around the same time is a row of LARGE amounts of REVIEW bombs. People in certain areas will start getting massive 1 star reviews on RANDOM models and loras etc.
BUT REVIEW BOMBING IS LIKE TYPICAL
Yes but in this case it's the KIND of review bombing.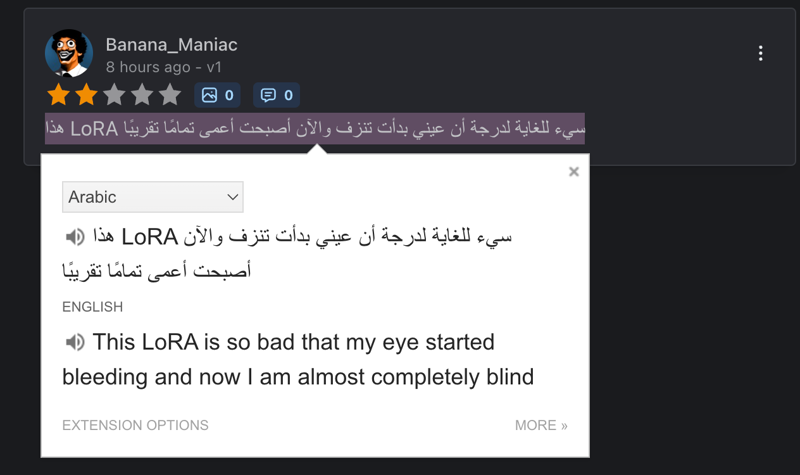 The method they STARTED with was to do 1-2 stars and start making stupid statements to get past the moderator abuse rules, and a lot of the time the loras have the same statements.
TRIGGER WARNING SECTION: VERBAL ABUSE AND TALKS OF THE N WORD AND OTHER DEATH LEVEL THREATS
PERSONAL DMs from "REMAY" or "EVIL YAMER"
Keep in mind this is NOT Yamer, we've BOTH spoken to each other since then, and while at first it was cute and funny the guy has NOW verifiably gone after Yamer as well.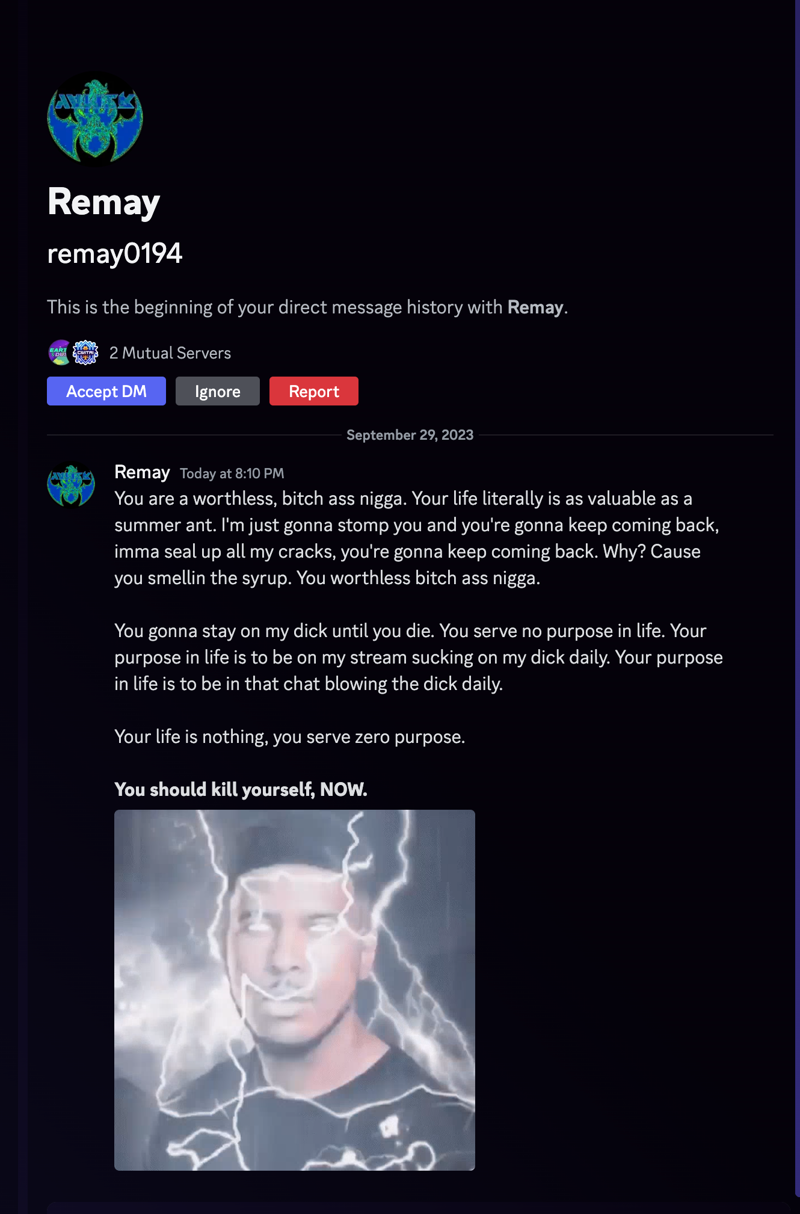 MESSAGES IN EARTH & DUSK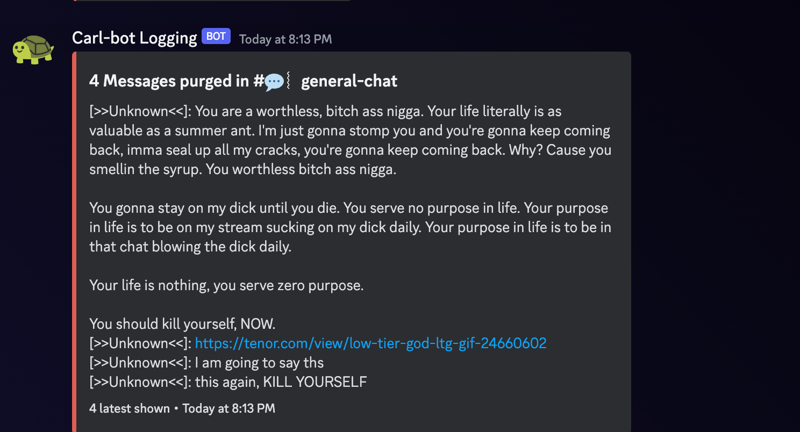 The actual screenshot: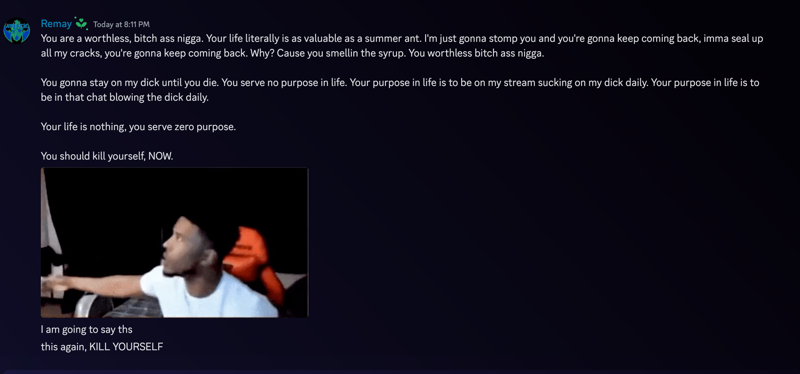 WHERES THE ONE FOR YOUR IMPOSTER?
I wasn't able to screenshot THAT content as I was on my phone and I've reported it to discord. When you report it to discord after blocking, it deletes all of your chat history. If i can find any verifiable information I will try and edit this here later. Largely the FIRST DM was a lot cleaner then the second one.
The first one largely was just words like "Smooth Brain" and "ELDERLY" and "You have a LOT OF ENEMIES". Also likely kept saying "YOU DONT KNOW ME DO YOU".
I'm unaware of his pattern with anyone else, as I've stepped up high levels of security for my personal discord account, so if you need to get ahold of us PLEASE be aware that we have friend requests AND DM's off to largely MOST servers.
VERIFIABLE ACCOUNTS OF OURS:
Anyways just A HEADS UP TO ANYONE that sees any comments/discord things about me that seem to be "FROM ME" - THE ONLY VERIFIABLE discord account I OWN?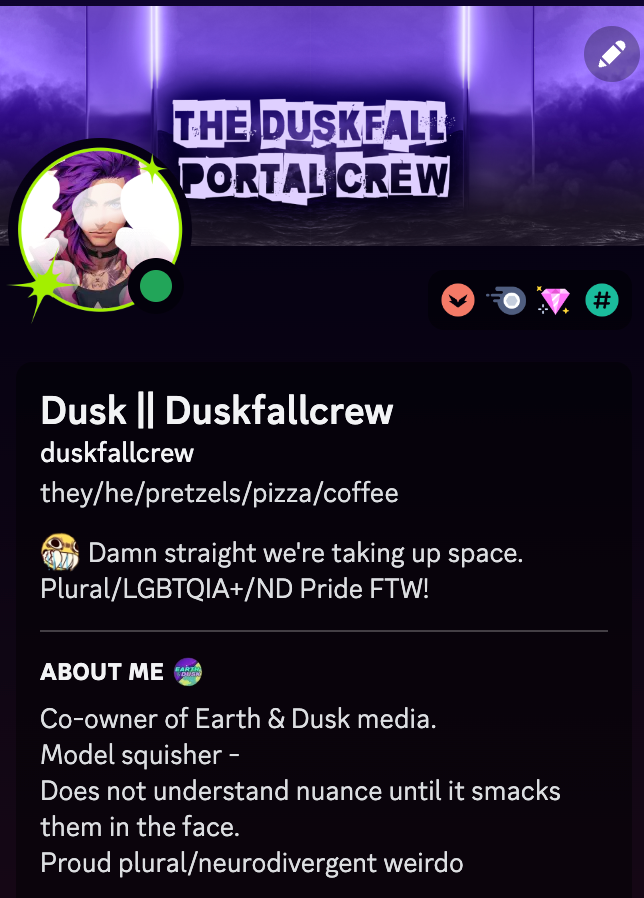 That's my profile via Earth & DUSK discord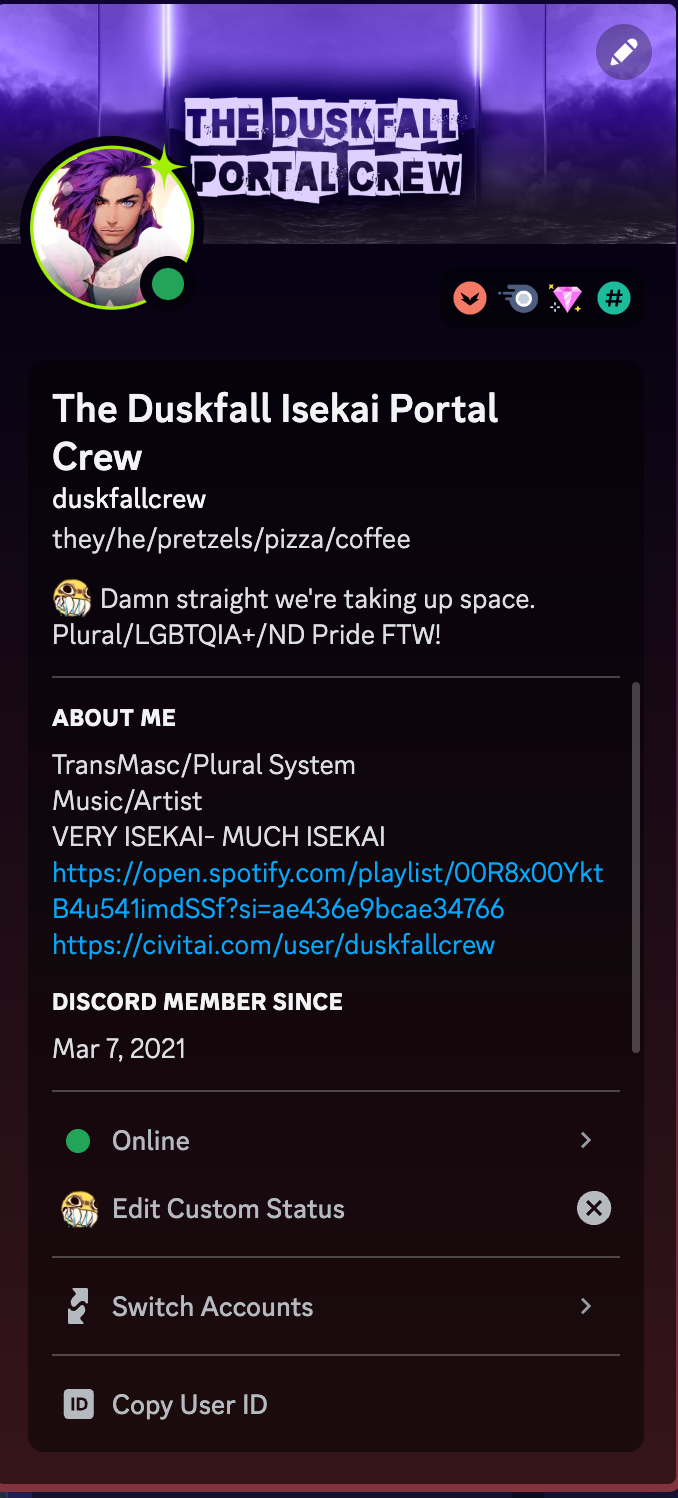 That's my public non server profile.
Also be aware that i've had my account since 2021, and my OLD account (Which is largely inactive due to losing the pw and email.)
Old account not to trust (WITHOUT HEADS UP FROM ME)
So in case someone HACKS MY OLD ACCOUNT t his is what it currently still looks like: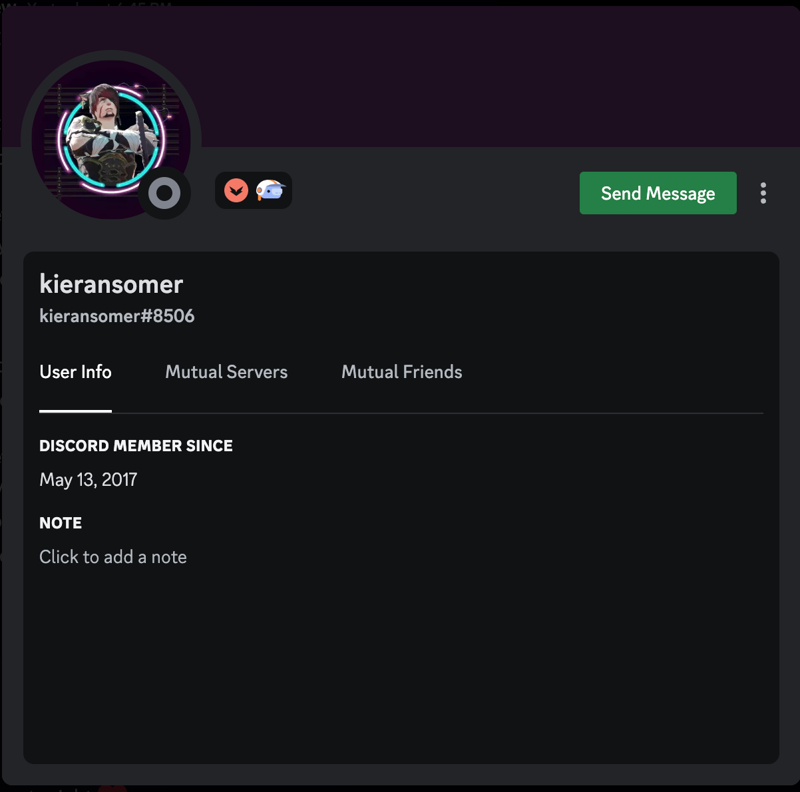 You won't. get FR's or any details FROM THAT account since i've largely been UNABLE TO USE IT since 2021 after falling out with a friend.
E&D VERIFIED DISCORD INVITES

the Da7s one is finiceky and doesn't always work.
Thus the 5t one was the new one.
If you get an invite that isn't ONE OF THOSE TWO, and it's from a suspect account - let me know.
Anyways! STAY SAFE PEEPS.
Don't click on dodgy stuff because Grandpa ain't gonna be happy XD