OnlyRealistic | 《唯》· 超高清真人写实
⬇Read the
info below

to get the

high quality images

🙏 (click on show more)⬇
Version Change Log
Tips:There is no significant improvement relationship between all released versions, and each version has its own advantages and disadvantages. Please choose according to your own needs and preferences.
V34.6:International and more diverse character
V30: Comprehensive improvement with significant improvement in realism and generalization.
V29: A natural and round face with a more coordinated body ratio and a more realistic visual texture
V28: Beautiful face and long legs, more aesthetically pleasing visuals
版本说明
所有已发布版本之间并无明显的改善关系,各版本都各有优缺点,请根据自己的需求与喜好选择。
V34.6:国际化且更多样的角色
V30:全面性的改进,在真实度与泛化性有大幅提升
V29:自然圆润脸身体比例更协调,画面质感更真实
V28:脸美腿长,画面更唯美
---
Introduction / 简介
Most realistic models aim to enhance film grain and blur to achieve a realistic photo effect, but images turning yellow and blurry. The ultimate goal of this model is to maintain high quality while maintaining authenticity.
One of the reasons for creating this model was my desire to have a foundational model that combines aesthetics with realism. I noticed that most models tend to fall into two extremes: some are realistic but lack artistic appeal, while others have beautiful visuals but lack realism. Thus, I developed this model, which, in my opinion, strikes a balance between aesthetics and realism, while being rooted in Eastern aesthetics.
Another reason behind creating this model was to have a highly compatible foundational model. Many existing models tend to be heavily biased towards specific styles, whereas I wanted a model that is truly versatile, allowing me to seamlessly transition between various styles, while relying on the diverse capabilities of the Lora community.
The model only needs to use a simple keyword to draw realistic photos, the whole body image has been greatly improved.
The model purposely reduces the skin blemishes of the young female characters. If you need to create a true sense of blemish, please emphasize it in the prompts.
If you think the model is good, don't forget to give it a five-star rating. Your support is the motivation for me to share.
大部分写实勒模型都是在增强胶片感与模糊来取得类似现实照片的效果,这导致图片往往发黄模糊,而这个模型的最终目标是高质量的同时保持真实性。
做这个模型的一个原因在于我想要一个兼具美学与真实感的基础模型,但大部分模型都是在走两个极端:一部分写实但欠缺美感,另一部分画面唯美但却不够写实。所以,我制作了这个个人认为平衡了美感与真实感的模型,当然这是基于东方审美的基础上。
另外一个原因则是,我想要一个兼容性极强基础模型,但大部分模型都特别偏向于某一风格,而我希望这个模型真的足够基础,让我可以很好的变换各种风格,而其他工作交给社区里种类繁多的Lora。
本模型只需要使用简单的关键词就可以绘出逼真的写实照片,对全身图像进行了大量改进。
模型特意减少了年轻女性人物皮肤瑕疵,如果需要营造真实的瑕疵感请在提示词中强调。
觉得模型不错的话,别忘了给个五星好评~ 你们的支持才是我分享的动力。
---
About VAE / 关于VAE:
The model is built-in Vae. The light, shadow and color effects are soft. If you like higher contrast images, you can switch directly to VAE or download the non-VAE version to use any VAE you like, or use the followingg: sd-vae-ft-mse-original.
模型已经内置VAE,光影与颜色效果柔和,如果你喜欢更高对比度的图片,你可以直接切换其他VAE使用,或者下载无VAE版本使用其他任何你喜欢的VAE,或使用下面这个sd-vae-ft-mse-original。
---
Recommend Promts

/ 推荐提示词

: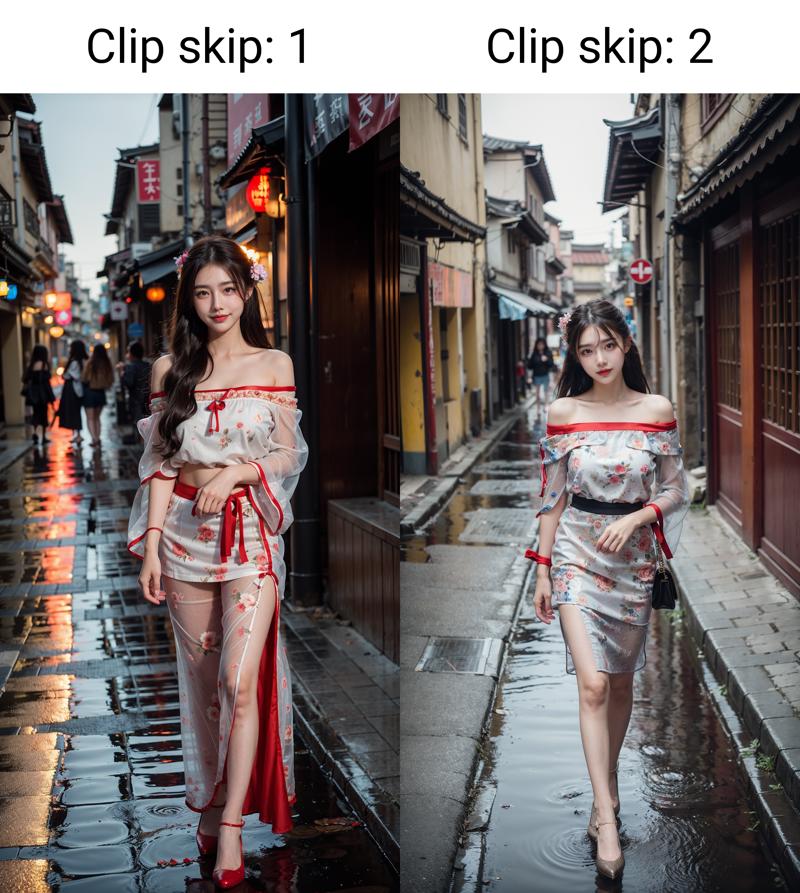 ( The above displays different outcomes with varying "Clip skip" under the same conditions. / 上面展示了在相同条件下不同Clip skip的不同结果 )
Tips:
提示:
Promts sample / 提示词举例:
RAW photo, 1igrl, goddess, white hair, blush, (smile:0.8), upper body, (high detailed skin:1.2), 8k uhd, dslr, soft lighting, high quality, film grain, Fujifilm XT3
Negative Promts / 负面提示词:
Option Negative Embedding / 可选负面Embedding: