I don't know English, the following translation is from chatGPT.
我不会英文,以下译文来自chatGPT
DarkLight
Bring more realistic and artistic lighting / shadowing to your images,with better contrast backlighting without losing any detail
带来更真实且充满艺术感的光照/阴影,有着更高对比度的背光而不丢失任何细节
Advantages of DarkLight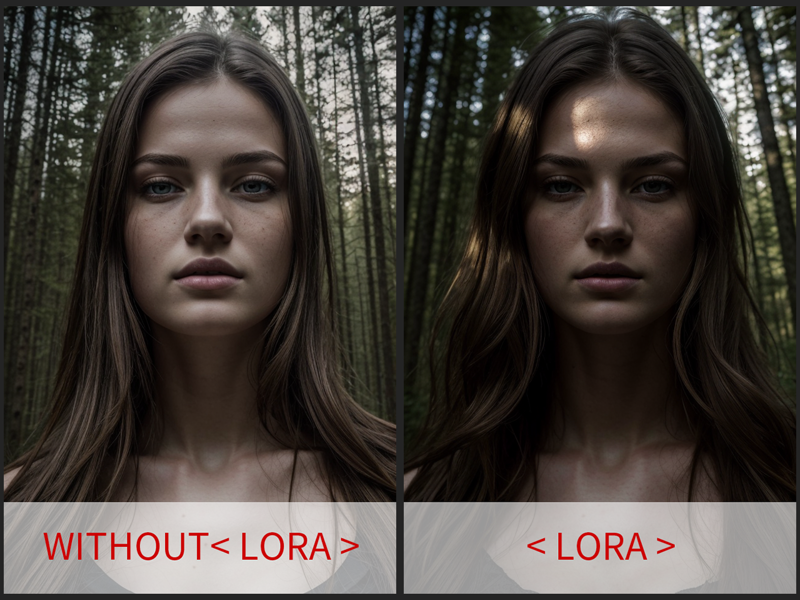 1.Higher threshold shading: better shadows, especially when backlit (such as adding silhouette prompt words)
阈值更高的明暗度:更好的阴影,尤其是在逆光时(如加入silhouette提示词)
2.Flexible and controllable: increase or decrease the weight to adjust the contrast
灵活可控:增减权重即可对对比度进行调节
3.Lower weight: In a large number of tests, the weight is often set to 0.3 to be effective.
更低权重:在大量测试中,权重往往开到0.3即可发挥作用

4.Retention of dark details: especially prominent on realistic characters (others have yet to be tested)
暗部细节的保留:在写实人物上尤为突出(其他尚待测试)
5.Better black and white images: It's not difficult to understand, after all, the contrast levels are richer
更好的黑白图像:不难理解,毕竟层次对比都更丰富了
6.Brighter colors: It's a bit surprising, but the contrast does not only affect black, white and gray
更好的黑白图像:不难理解,毕竟层次对比都更丰富了
about prompt
Most of the tags in the data set include (1girl, spotlight, dark theme), so putting them at the head of the prompt word will have better results.
1girl can be changed into any character, such as 1man, 1cat……
You can add a color word in front of spotlight, such as red spotlight, then the light source will turn red. It may take a few more tries, but the effect is already very good without adding it.

Dark theme can also modify the color, such as red theme, then the tone of the dark part will be more red. In addition, if you use green theme, there is a certain probability that a forest will appear in the background. This depends on the large model. I will update it in the next version. improvements in
在数据集中大部分的标签都包含(1girl,spotlight,dark theme)所以把它们放在提示词头部,效果更好
1girl可以换成任意角色,如1man,1cat
spotlight前面可加颜色词,如red spotlight,那么光源将变成红色,可能要多试几次,但不加其实效果也已经很好了
dark theme同样可以修改颜色,如red theme,那么暗部的色调将更多呈现红色,另外,如果你使用green theme,背景则有一定概率会出现森林,这个取决于大模型,我将会在下一个版本中进行改善(也许maybe)
prompt:
1girl,spotlight,silhouette,portrait,parted lips,closed eyes,beautiful detailed skin,one hair bun,turtleneck_sweater,dark background,<lora:spotlight:0.84>,
Negative prompt:
nsfw,logo,text,bad anatomy,verybadimagenegative_v1.3,extra limb,missing limb,disconnected limbs,malformed hands,ugly,
Steps: 60,
Sampler: DPM++ 2M Karras,
CFG scale: 5,
Seed: 1003785097,
Size: 640x960,
Model: Realistic Vision V5.1
If you'd like to support me and do more : ☕ https://ko-fi.com/vjleoliu ☕commissions open
checkpoints
Each lora is trained through hundreds of high-definition pictures, trained on 1.5 checkpoints, and verified on 10 famous checkpoints, almost including all the realistic styles and 2.5D styles on the leaderboard, the list of checkpoints is as follows:
推荐模型
AbsoluteReality
chilloutmix_NiPrunedFp32Fix
CyberRealistic
deliberate
DreamShaper
Edge Of Realism_EOR
Ether Real Mix
lyriel
Realistic Vision
ReV Animated
Since you've reached the end, please give me a five-star review;
it's very, very important for my ongoing creativity! Thank you!
都看到这了,不给个五星好评么?
hope you have fun!