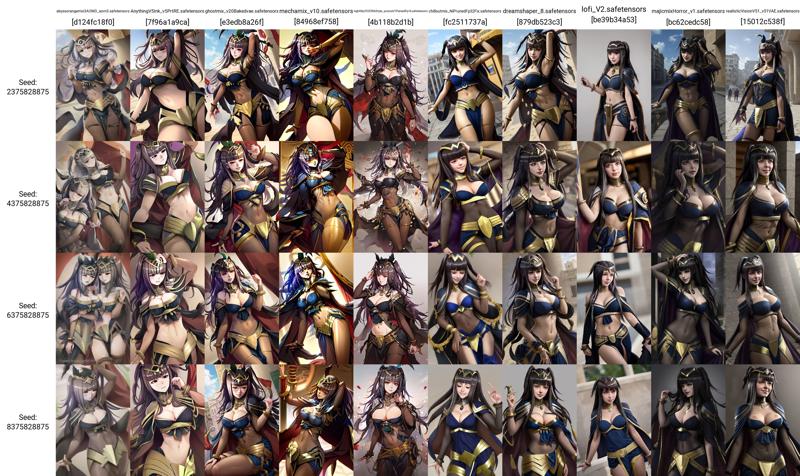 Total score: 7/7 Almost perfect.
Setting: 2/2
The detail restoration in the settings is accurate enough, and there is not much to be faulty about. But the appearance is slightly lower.
Style: 2/2
It reflects the changing drawing style, and it seems that you can freely choose the model to draw the drawing.
Failure: 2/2
Few double errors. The shape of the crotch armor is unstable.
Subjective: 1/1
The completion level of the straight out LoRa does not require much tuning.
Note:
This test is designed to indicate the availability of the role LoRa. 40 images were generated using 4 seeds and 10 models. It is evaluated from 3 dimensions and 1 subjective dimension of character setting, style and failure. Objective dimension score: 0 Not Recommended, 1 Available, 2 Recommended. Subjective dimensions: 0 Not recommended, 1 Recommended. The total score is 7.
总分:7/7 几乎完美。
设定:2/2
设定中的细节还原足够准确,没有太多值得挑剔的地方。但是颜值略低。
风格: 2/2
体现出了多变的画风,看起来可以自由选择模型出图。
故障:2/2
很少的双人错误。裆部护甲的形状不稳定。
主观:1/1
完成度非常高的直出lora,不需要太多调教。
注意:
该测试旨在指示角色 LoRa 的可用性.使用4个种子和10个模型生成了40个图像。从人物设定、风格与失败3个维度和1个主观维度进行评估。客观维度得分:0 不推荐,1 可用,2 推荐。主观维度:0 不推荐,1 推荐。总分是 7 。