I don't know English, the following translation is from chatGPT.
我不会英文,以下译文来自chatGPT
SDXLrender
Trained from over a hundred high-resolution images from SDXL, it aims to recreate the authentic lighting and intricate textures of SDXL.
Recommended weight: 0.2~0.9
由上百张SDXL高清大图训练而成,意在还原SDXL的真实光影和细腻的纹理
推荐权重在0.2~0.9之间
This link will tell you how I trained an obedient and efficient LoRa
这里我写了一个如何制作该lora的简易教程,想了解的朋友可以看看
SDXLrender_v2.0
1. Enhancing the model's generalization, even on a 2.5D model, continues to yield excellent performance.
提升模型的泛化性,现在即使在2.5D的模型上,表现依旧优异

2.This is the most significant upgrade in this version. Now, you can generate images at 512 resolution with clarity comparable to 1024 resolution, allowing you to produce higher quality images with lower computer specifications. This aligns with the original intention of SDXLrender.
这是本次版本最重大的升级,现在您可以在512分辨率下生成出堪比1024分辨率的清晰画质,用更低的电脑配置生成出更高质量的图像,这也是SDXLrender的初衷。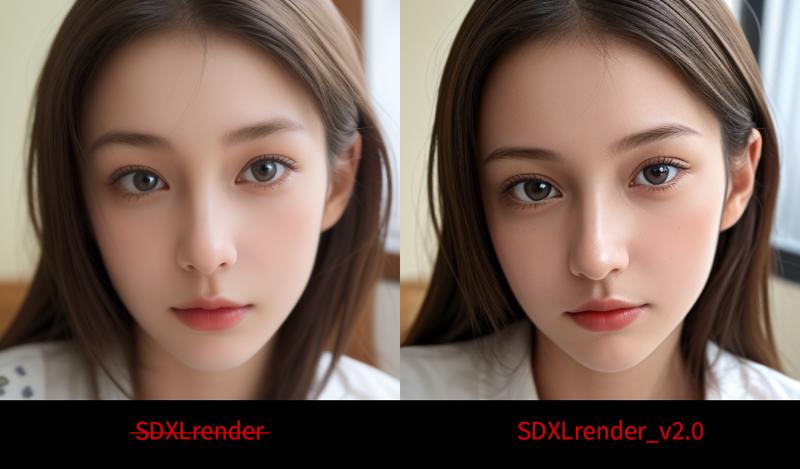 甚至可以提升LCM的图像品质。感谢 用户@949491917901,是他测试的这个功能。
It can even enhance the image quality of LCM. Special thanks to user @949491917901, who tested this feature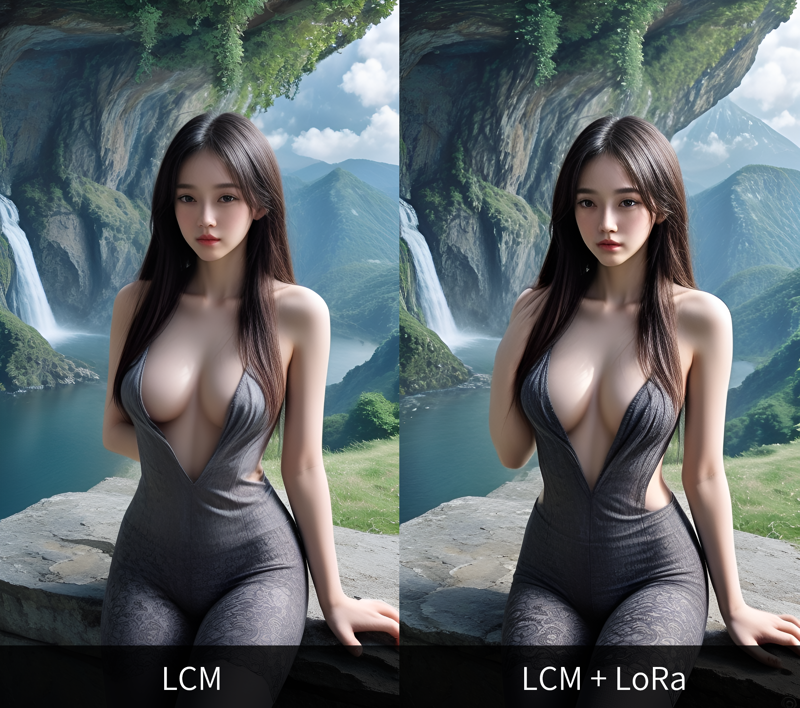 3. The skin texture has been upgraded once again. Even in full-body photos, and even with the use of Hires. fix, you can still perceive the presence of skin texture, especially under close-up shots.
皮肤纹理再次升级。即使是全身照,即使用了Hires. fix,你仍能感受到肤质的存在,特写镜头下尤甚。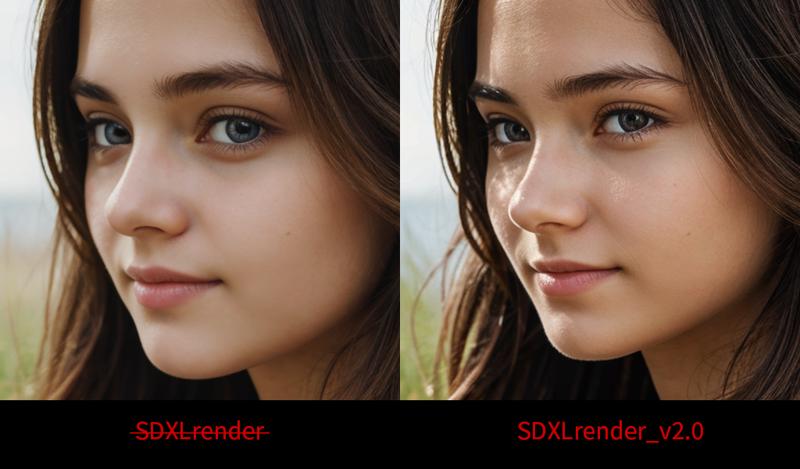 4. Contrast optimization. In response to some users' feedback requesting higher contrast, immediate adjustments were made. I have conducted a brand new optimization of the bright and dark areas (after all, I started with darklight; for those who don't know what darklight is, see here).
对比度优化。部分网友反映希望提高对比度,立马安排,本叔对亮部和暗部做了全新优化(毕竟我是做darklight起家的,不知道darklight是什么的看这里)
5. Other optimizations include the removal of the lens control feature. This feature was initially intended to improve the controllability of SD1.5 scenes, but it seems to have caused considerable confusion for some people (perhaps because they didn't fully understand the instructions). Therefore, I've decided to remove this feature, even though I find it very practical. Maybe in the future, I will release a separate lens controller version, depending on whether there is a demand for it.
Of course, removing the controller also has its benefits. Now, simply by adding SDXLrender_v2.0 to your generated image, you will immediately see an overall improvement in picture quality, without worrying about disrupting the original composition and styling of the characters in the image. It's quite stable.
其他优化:拿掉了镜头控制,这个功能的初衷是为了提高SD1.5景别的可控性,但它似乎给一部分人带来了很大的困扰(也许是因为他们根本就没有看懂使用说明)所以我决定拿掉这个功能,即使我觉得它非常的实用,也许未来我会单独出一个镜头控制器的版本,就看有没有人需要了。
当然,拿掉控制器也不是全无好处,现在只要在你生成的图像上增加SDXLrender_v2.0,立刻会得到画质的全面提升,而不用担心破坏画面的原有构图和人物的造型。相当稳定。

For those using lora for the first time: you only need to add this lora to the positive prompt box. There's no need for trigger words or quality descriptors; it's plug-and-play.
对于第一次使用lora的同学:只需将该lora加入到正向提示框中,无需触发词,无需质量词,即插即用。
hope you have fun!
If you'd like to support me and do more : ☕ https://ko-fi.com/vjleoliu ☕commissions open
SDXLrender_v1.0
1.Enhancement, more delicate skin texture and higher contrast, checkpoint: majicMIX
SDXLrender优势一:在SD1.5上跑出接近SDXL的真实图像
测试模型:majicMIX。lora权重0.6,在光影、对比度尤其是皮肤纹理上都有显著提升。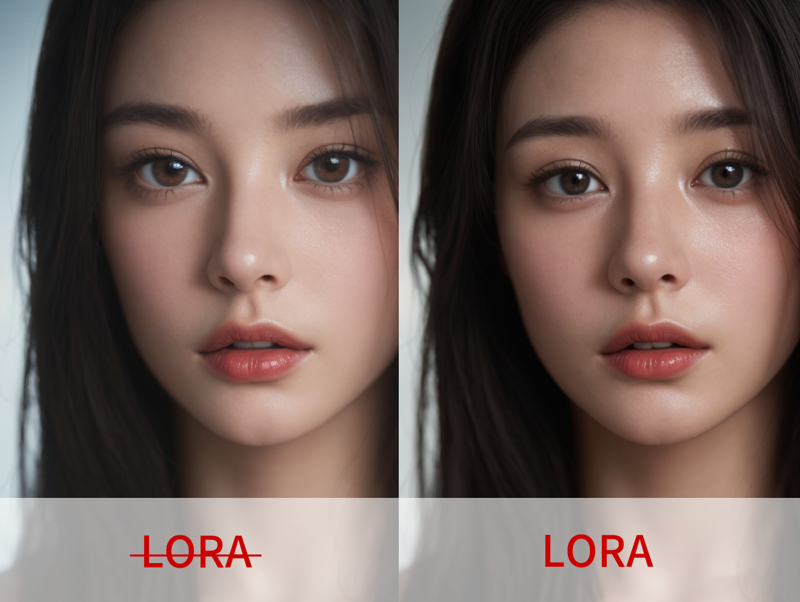 2.No need for any prompts about quality
checkpoint: SD1.5 base model (lora weights range from 0.0 to 0.6)
SDXLrender优势二:几乎不需要任何质量提示词就可以得到很好的结果,减轻输入提示词的负担
测试模型:SD1.5基础模型,从权重测试图可以看出(提示词仅用了1gir,portrait,outdoors+SDXLrender)其中0.0是没有作用,0.1~0.2开始增加细节,0.3之后则开始对较大区域进行优化渲染。

3.More precise composition control
checkpoint: RealisticVision_v5.1(The weights of lora are 0 and 6 respectively)
SDXLrender优势三:对于构图的提示词更加敏感。
测试模型:RealisticVision_v5.1,这里我选择了最常用的九组构图提示词进行测试,结果均优于原模型的出图效果。lora权重为1。
我也写了一篇简短的文章,来讲解我是如何做到这一点的,感兴趣的朋友可以看看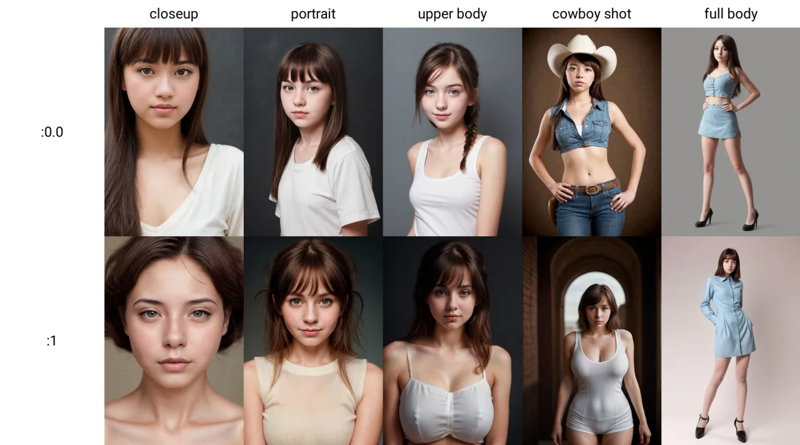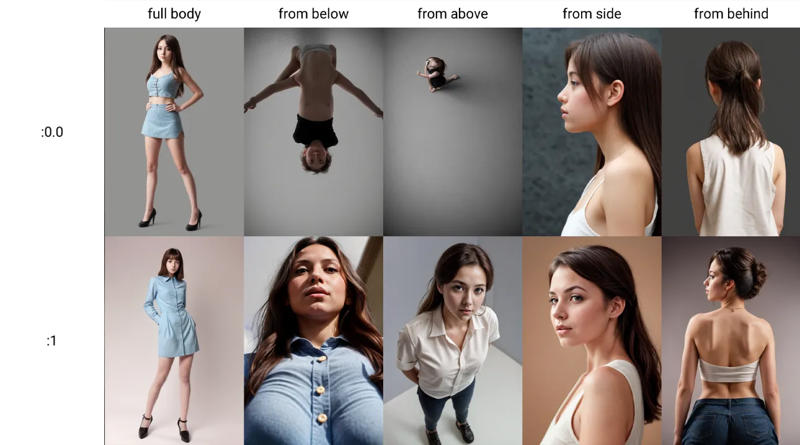 4.Reduce the probability of redundant characters appearing
checkpoint: epiCPhotoGasm_x (lora weights range from 0.0 to 0.3)
SDXLrender优势四:这点属实是意外之喜,SD1.5在出大图的时候常常会多手多脚甚至多人,但通过这个lora的测试,我发现它会大大减少这种情况的发生,这可能跟数据集大多是单人图有关。
测试模型:epiCPhotoGasm_x,0.3之后多人的情况就没有了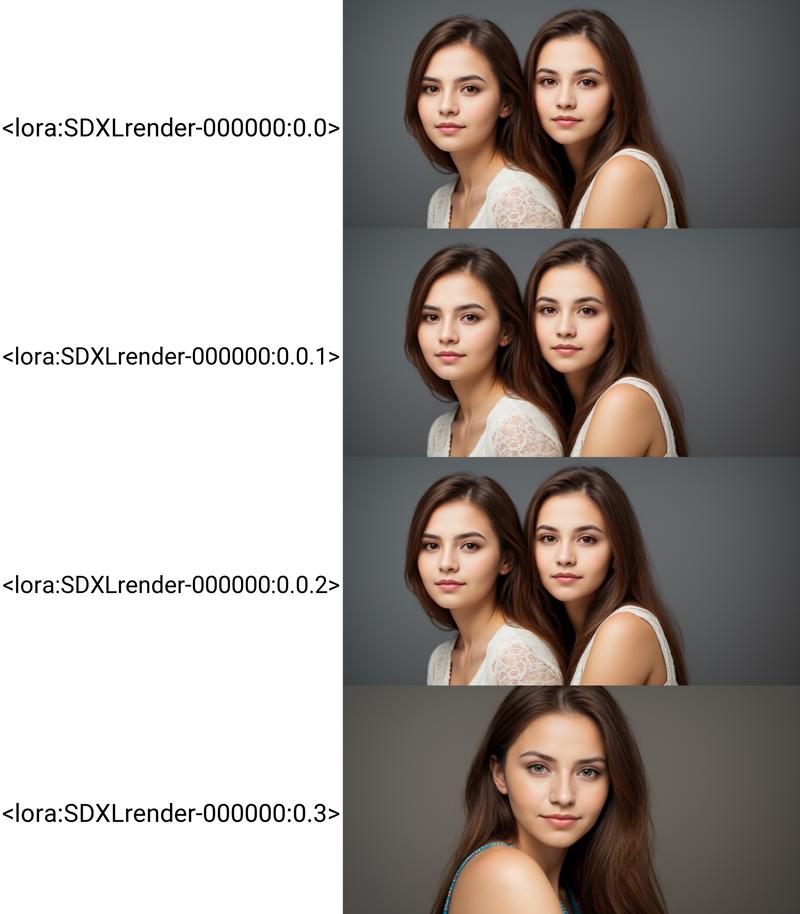 我的提示词/设置范例
parameters
editorial fashion photo,a woman,portrait,from below,crazy,(yellow glow eyes:1.2),black choker,nude,yellow background,golden and black colors,<lora:SDXLrender_v1.0:1>
Negative prompt: NSFW

Steps: 36,
Sampler: DPM++ 2M SDE Karras,
CFG scale: 6,
Seed: 4172998084,
Size: 640x960,
Model hash: ef76aa2332,
Model: Realistic Vision V5.1,
Clip skip: 2,
Lora hashes: "SDXLrender_v1.0: 88ee78180c38", Version: v1.6.0
If you'd like to support me and do more : ☕ https://ko-fi.com/vjleoliu ☕commissions open
checkpoints
Each lora is trained through hundreds of high-definition pictures, trained on 1.5 checkpoints, and verified on 10 famous checkpoints, almost including all the realistic styles and 2.5D styles on the leaderboard, the list of checkpoints is as follows:
推荐模型
AbsoluteReality
chilloutmix_NiPrunedFp32Fix
CyberRealistic
deliberate
DreamShaper
Edge Of Realism_EOR
Ether Real Mix
lyriel
Realistic Vision
ReV Animated
Since you've reached the end, please give me a five-star review;
it's very, very important for my ongoing creativity! Thank you!
都看到这了,不给个五星好评么?
hope you have fun!