The model is already available on Mage.Space (main sponsor)
RealVisXL [ V1.0 (Hugging Face) ] [ V2.0 (Hugging Face) ]
It's important! Read it!
The model is still in the training phase. This is not the final version and may contain artifacts and perform poorly in some cases.
RealVisXL V3.0 Status (Updated: Dec 05, 2023):
- Training Images: +520 (V2.0: 1740)
- Training Steps: +104k (V2.0: 348k)
- Approximate percentage of completion: ~30%
The model is aimed at photorealism. Can produce sfw and nsfw images of decent quality.
ᅠ
Recommended Negative Prompt:
(worst quality, low quality, illustration, 3d, 2d, painting, cartoons, sketch), open mouth
or another negative prompt
ᅠ
Recommended Generation Parameters:
Sampling Steps: 15-30
Sampling Method: DPM++ SDE Karras / or another
ᅠ
Hires Fix Parameters:
Upscaler: 4x-UltraSharp upscaler / or another
Denoising strength: 0.1-0.35
Upscale by: 1.1-2.0
ᅠ
Optional Parameters:
ENSD: 31337
ᅠ
This model is: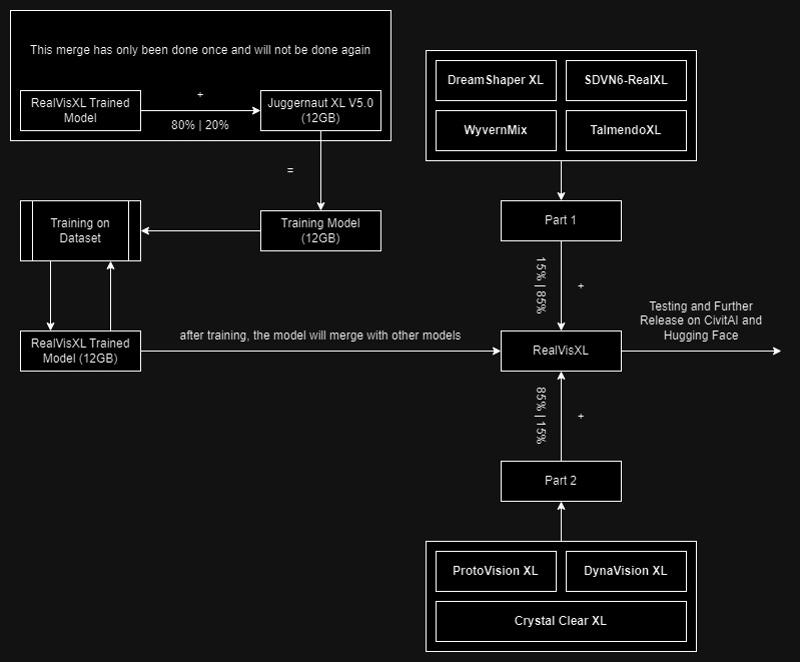 The training took place locally on a single video card and took about 140 hours. Version 2.0 is not the final version, the model will be updated.
ᅠ
Huge thanks to the creators of these great models that were used in the merge.
SDVN6-RealXL by StableDiffusionVN
TalmendoXL - SDXL Uncensored Full Model by talmendo